Hundreds visit Islington health fair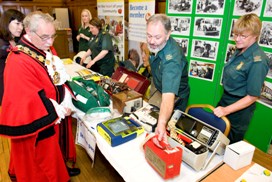 Almost 300 people visited a London Ambulance Service community health fair at the Assembly Hall in Islington on Saturday (14 April).
Visitors learnt basic life support, had a chance to compare an ambulance from the 1970s to the one used by our crews today, and found out about local healthcare options.
As well as having an opportunity to speak with our staff and paramedics about the work we do, there were stands by other healthcare organisations and community groups, including the British Heart Foundation, Stroke Association, which provided free blood pressure checks, and HealthSmart, which offered health checks.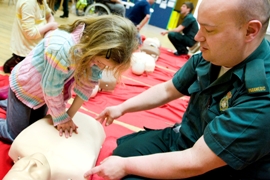 Head of Patient & Public Involvement Margaret Vander said: "Having a range of organisations represented meant that we could provide a one stop shop for the local community to find out about healthcare options in the area. 
"We taught many of the visitors basic life support skills, emphasising the importance of starting resuscitation without delay in order to give them the best chance of survival. 
"The event also gave us the opportunity to talk to patients and the public, who we normally only see in an emergency."
Notes to editors: