Student paramedic among first to run on Olympic track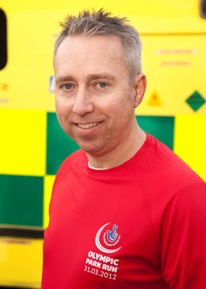 A Newham-based student paramedic will be among the first people to cross the finish line on the Olympic track.
Tim Coward, 43, is one of 5,000 members of the public picked from a ballot to take part in the five-mile National Lottery Olympic Park Run, which finishes on the track in the Olympic Stadium.
The father of two said: "I was desperate to be a part of the Games and part of the reason I applied to become a paramedic was so I could be involved in the Games.
"It's a once in a lifetime opportunity and one I'd like to share with my kids so they can tell their children in the future. This run is the first official time the public have access to the Olympic Stadium. There will be people from all walks of life and professions and I plan to soak up the atmosphere."
Tim, who has worked for the London Ambulance Service for three years, will be based in Games venues in the summer and has already provided medical cover at some of the test events including the gymnastics, diving, swimming and boxing.
He added: "Working for the ambulance service during the Games is very exciting – we're representing our country to the rest of the world – which is something quite huge.
"There has been a great atmosphere at the test events, which gives a taster as to what the actual Games will be like. I've been within 10 feet of world-class Olympic swimmers – how often do you get to do that?"
Tim's wife and six-year-old daughter will watch him at the event on Saturday (31 March).
– Ends –
Notes to editors:

• For further information about the London Ambulance Service or this news release or for high resolution photographs please contact the communications department on 020 7783 2286.
• Find out more about the London Ambulance Service at www.londonambulance.nhs.uk or follow us on Twitter at www.twitter.com/ldn_ambulance