Paramedic pays 'marathon' tribute to crewmate's wife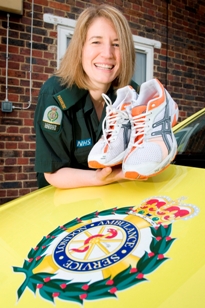 A Pinner paramedic will run the London Marathon in memory of her crewmate's wife who lost her battle against breast cancer.
Amy Laws and Emergency Medical Technician Paul Worger have been crewmates for nearly seven years and based at Pinner ambulance station, Imperial Drive, Harrow. Paul's wife, Teresa, was diagnosed with breast cancer six years ago and after 18 months of intense treatment, was in remission.
Paul and his four children, who live in Kenton, raised hundreds of pounds for Cancer Research, as a way of saying thank you to the charity for helping them. Their fundraising activities included a sponsored ponytail chop, when Amy cut off Paul's much-treasured plait in front of family and colleagues.
Sadly, the cancer returned last year and following a short illness, Teresa died in November.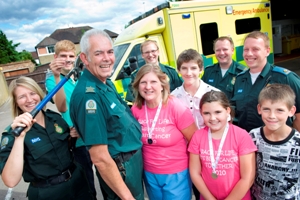 Amy, aged 32, has run the marathon four times before. She said: "Doing the marathon is my way of paying tribute to Teresa.
"It will be very emotional because she was a great person and a good friend and Paul and the children are going to write a message to put on my back. Teresa's memory will keep me going – she was so strong and that will help to keep me focused, as well as the fact that I'm running for such a good cause."
To sponsor Amy visit www.runningsponsorme.org/amylaws7
– Ends –
Notes to editors:
• For further information about the London Ambulance Service or this news release, for high resolution photographs, or if you would like to speak to Amy, please contact the communications department on 020 7783 2286.
• Find out more about the London Ambulance Service at http://www.londonambulance.nhs.uk/ or follow us on Twitter at www.twitter.com/ldn_ambulance