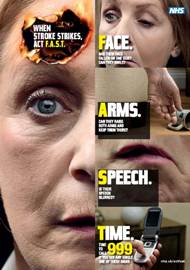 Londoners are being urged to 'Act FAST' if they think someone is suffering a stroke, as the Government's advertising campaign begins again today (27 February).
The television advert shows how to do the 'Face, Arm, Speech, Time to call 999 test' which identifies people whose blood supply is being cut off from the brain – a life-threatening emergency.
People should look for:
Facial weakness – can the person smile? Has their mouth or eye drooped?
Arm weakness – can the person raise both arms?
Speech problems – can the person speak clearly and understand what you say?
Time to call 999
Since February 2010, London Ambulance Service staff have been taking patients with suspected stroke straight to one of eight specialist hospitals in the capital, open around the clock.
London Ambulance Service Assistant Medical Director Neil Thomson said: "We're concerned that people don't call us straight away if they see the signs of stroke – it's a medical emergency and needs treatment as soon as possible. We hope the Act FAST campaign will remind more people to take action quickly.
"Stroke is also known as 'brain attack' because it's just as life-threatening as a heart attack and we treat it just as seriously.
"If our staff think you're suffering from brain attack they will take you directly to a hyper-acute stroke unit where you will have access to expert clinicians 24/7.
"This may mean the ambulance will bypass local hospitals on the way, but ultimately you will receive the best level of care more quickly."
On average, London Ambulance crews take over 750 patients a month straight to a hyper-acute stroke unit for specialist care.
– Ends –
Notes to editors:
For further information about the London Ambulance Service or this news release please contact the communications department on 020 7783 2286.
Find out more about the London Ambulance Service at www.londonambulance.nhs.uk, follow us on Twitter at www.twitter.com/ldn_ambulance or on Facebook at www.facebook.com/londonambulanceservice.
London Ambulance Service figures show that on average over 750 patients each month are taken directly to a hyper-acute stroke unit (HASU).
The avergae journey time from the scene of an incident to a HASU is 18 minutes.