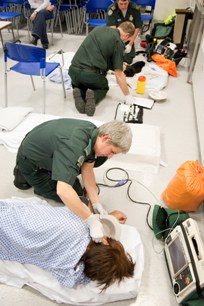 As the Prime Minister is set to call for 'innovative solutions' to tackle excessive drinking, London Ambulance Service has secured extra funding from NHS London to reopen the alcohol recovery centre in Soho. 
The centre, which will operate for a further five weekends from Friday 24 February, provides an alternative to A&E departments for patients who have had too much to drink, helping to free up hospital beds.
In December staff at the centre treated 180 patients who were suffering from the effects of too much alcohol. The busiest night was New Year's Eve when 41 patients were treated. The vast majority of patients were taken to the facility by the alternative response vehicles or the 'booze buses'.
Up to five staff will work at the centre each night. They will monitor patients' blood pressure and blood sugar levels allowing them to sober up before discharging them or contacting their families and friends to collect them. Most patients treated at the centre will also be given advice on how to drink responsibly.
Ambulance Operations Manager Martin McTigue said: "I'm pleased that we'll be able to reopen the Soho centre as the vast majority of patients who've had too much to drink don't need to go to A&E and can get the care they need at the alcohol recovery centre.
"It also provides us an opportunity to talk to patients about their alcohol consumption and to give them advice on responsible drinking."
NHS London Medical Director Dr Andy Mitchell said: "NHS London is pleased to be able to support the reopening of the centre as it saves time and money in a vital area of emergency care to ensure even during this challenging times we can provide the best possible service. While we know this eases pressure on the system we also know this is not a solution to excessive drinking. We are working with a number of NHS services across the capital to raise awareness about the dangers of excessive drinking and the impact this can have on Londoners' health."
There are plans for a similar facility in Romford.
Notes to editors
The Soho alcohol recovery centre will be open on Friday and Saturday nights from 24 February.
It was open for 10 nights from 15 December to 1 January and staff treated 180 patients.
Liverpool Street station treatment centre, run jointly with St John Ambulance, was open for five nights in December and staff treated 99 patients, 49 of them were discharged without further treatment in hospital.
274 patients, with only 55 of them taken to hospital, were treated on New Year's Eve in 13 treatment centres in central London. 
For more information about this release please contact the communications department on 020 7783 2286. 
Follow us on Twitter at www.twitter.com/ldn_ambulance visit us on facebook at www.facebook.com/londonambulanceservice