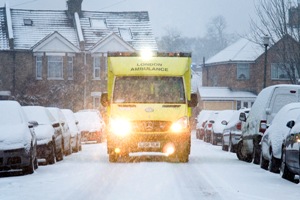 'Please use us wisely and only call 999 with life-threatening emergencies' – that's the message from the London Ambulance Service as snow is predicted to hit the capital this weekend.
Demand on the Service's 999 control room is expected to rise if the wintry forecast proves correct, as icy roads and pavements are likely to lead to an increase in slips, trips and falls. Cold weather can also make existing medical conditions worse, like asthma.
When snow first hit London last winter, the Service's control room experienced an increase in demand of well over 50 per cent. Control room staff usually take 200 calls an hour, but at the busiest times dealt with well over 300 as Londoners struggled in the conditions.
The weekend before Christmas a year ago staff answered 1,215 calls from people who'd slipped or fallen in the snow and ice, up 58 per cent on usual levels.
Almost all the Service's fleet of ambulances and response cars have been fitted with winter tyres since October, and other contingency plans will also be put into place if necessary to help get staff to work.
Assistant Chief Ambulance Officer John Pooley said: "We are preparing as well we can for what might happen with the weather, but we would also ask Londoners to help us by using the 999 system wisely.
"Anyone with a genuine emergency should call us immediately, but those with more minor injuries should consider other healthcare options, such as calling NHS Direct on 0845 46 47 for advice, or going to a local pharmacist or NHS walk-in centre.
"There are a number of common sense things people can do to look after themselves so they don't have to call us. If you're going out wrap up warm, make sure you've got a well-stocked medicine cabinet at home and take extra care if you're driving or walking on slippery pavements.
"Anyone who thinks that they need to go hospital for non-emergency treatment should also consider making their own way there – going in an ambulance does not mean that they will be seen any more quickly."
– Ends –
Notes to editors: