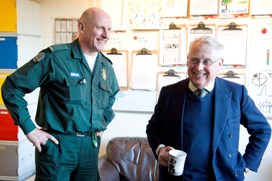 Bob Neill, MP for Bromley and Chislehurst, visited his local ambulance station in St Pauls Cray on Friday (27 January) and joined a crew for a shift to see for himself how the Service works. 
Bob spoke to Ambulance Operations Manager for the area Martin Cook about how patient care has improved over the last few years, staff training and the challenges facing the Service. He then joined Paramedics Robert Ash and Ryan Powell for an ambulance shift.
Martin said: "It was a good opportunity to talk to the local MP about how the Service works and to show him the work we do and the types of incidents we attend. Hopefully the time he spent with us gave him a good understanding of how we care for our patients."
Bob said: "Joining local paramedics gave me a real insight into the work they do for our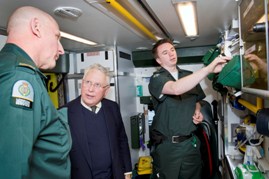 community.
"The staff were all extremely friendly and clearly approach the life and death decisions they face every working day with a huge amount of professionalism. It is a sad reality that the majority of us are likely to call upon the ambulance service at some stage in our lives, but this visit reaffirmed my view that we should all have absolute confidence in our local paramedic team."
Notes to editors: