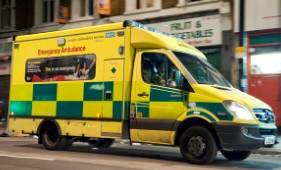 Chief Executive, Peter Bradley, said:
"While we are happy to discuss opportunities for greater collaboration between emergency services, we believe it is vital that the London Ambulance Service remains part of the NHS.
"We are an integral part of the health service in the capital, delivering world class care to Londoners, day in day out. Our track record shows we are managing increasing numbers of calls while improving our response to the most seriously ill and injured patients.
"The suggestion that savings of £500m could be made by merging stations is completely unrealistic. We respond to around 1.1m incidents a year with a budget of just £283m – providing excellent value for money.
"Our award winning emergency control room is the busiest in the world. We take nearly 1.5m calls a year – more than all 46 English fires services put together. And it costs Londoners just £30 a head for our service compared to £60 per head for the fire service.
"We do want to work more closely with our emergency partners. Where it is operationally practical, we will look at sharing facilities and at joint purchasing arrangements. We are in the process of organising a meeting at a senior level with the Metropolitan Police Service and the London Fire Brigade to improve collaboration between services.
"However, our job is to deliver clinical care to Londoners and, as the London Assembly review concludes, we can do this most effectively if we remain integrated within the health service."
Notes to editors

London Assembly Report: 'The future of the London Ambulance Service – A strategic review' 
In 2010/11 the London Ambulance Service received 1,494,207 emergency calls and responded to 1,058,132 incidents. This is more than all 46 fire services put together.
347,675 of these incidents were categorised as immediately life-threatening (Category A).
In 2010/11 we gave 50,058 patients clinical help and advice over the telephone and referred a further 46,054 patients to NHS Direct, potentially saving almost 100,000 ambulance journeys.
The provision of the ambulance service in London costs £30 per resident. The provision of the fire service in London costs £60 per resident.
For further information about the London Ambulance Service or this news release please contact the communications department on 020 7783 2286.
Find out more about the London Ambulance Service at www.londonambulance.nhs.uk or follow us on Twitter at www.twitter.com/ldn_ambulance.