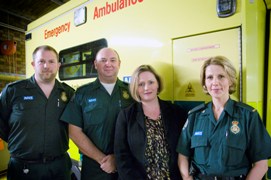 Mary Macleod, MP for Brentford and Isleworth, visited her local ambulance station on Mogden Lane on Friday (13 January) and joined a crew for a shift to see for herself how the Service works.  

Mary spoke to Ambulance Operations Manager for the area Edward Potter about how patient care has improved over the last few years, staff training and the challenges facing the Service. She then joined Paramedic Lorraine Bint and Emergency Medical Technician Lee Hopkins for an ambulance shift.
Edward said: "It was a good opportunity to show the local MP the work we do and the types of incidents we attend in and around Isleworth. Hopefully the time she spent with us gave her a valuable insight in to how we care for our patients."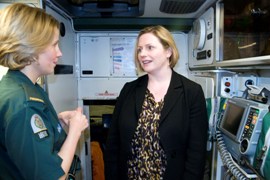 Mary said: "I am really pleased to have had the opportunity to go out with the local ambulance crew and see the hard work that they do.
"Friday nights are busy for our emergency services and it was inspiring to see them perform with professionalism, speed, empathy and good humour throughout. After seeing the work that they do first hand, it is comforting to know that we have such a world class team looking after us when we are ill."
Notes to editors: