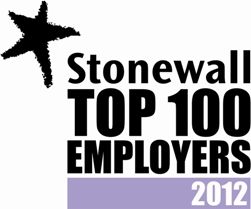 13 January 2012
The London Ambulance Service is celebrating being named among the country's most gay-friendly workplaces.
It is the first time that the organisation has made Stonewall's Top 100 Employers list and was this year the only ambulance service to do so.
The Service took 94th place in the 2012 list, which was announced earlier this week.
Joint Chair of the Service's Lesbian, Gay and Bisexual (LGB) Forum, and Oval Ambulance Operations Manager, Steph Adams, said: "This is a massive achievement as it is a very sought after and prestigious recognition.
"It reflects the fact that people feel they can turn up at work and are happy to be themselves. This has a really positive impact on the patients we care for in London's diverse communities."
Chief Executive Peter Bradley said: "We are very proud that the Service is an inclusive place to work and that we continue to value the differences in our workforce."
The Service's submission to Stonewall's Workplace Equality Index demonstrated inclusive policies, visible LGB leadership, and clear visions and values that encourage openness and equality. 
Barnehurst Paramedic Ben Evans added: "Being able to come to work and be yourself without fear of prejudice or discrimination is something that we are very fortunate to have. I was bullied in previous jobs for being gay, and when I joined the Service I was unsure of how everything would be accepted. I am pleased to say that I was accepted with open arms."
Notes to editors:

For further information about the London Ambulance Service or this news release please contact the communications department on 020 7783 2286.
Follow us on Twitter at www.twitter.com/ldn_ambulance