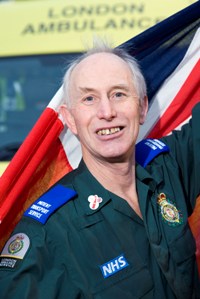 A 60-year-old ambulance worker who has run over 250 marathons will carry the Olympic torch this summer.
 
Jim Mundy, who works for the London Ambulance Service taking patients to and from hospital appointments, will run with the torch between Norwich and Ipswich on 5 July ahead of the Games.
Jim, of Crown Road, Sutton, was nominated by his partner Denise Mundy for being "an inspiration to other runners and for his dedication to the ambulance service's Patient Transport Service."
Jim, who has been with the London Ambulance Service for almost 10 years, said: "I'm absolutely thrilled, excited and honoured, especially after seeing pictures of the torch and reading all about it.
"It only involves running for half a mile, but I would have run all the way to Norwich to do it. It's strange to think so many people will be watching me, but once I get that torch in my hand I will be fine and very focused."
Jim is more used to running much longer stretches and has completed 266 marathons to date but is not thinking about hanging up his trainers yet.
He will represent the London Ambulance Service at the Virgin London Marathon in April. Two months later he will take part in The Games 100. The 100-mile event is organised by the Long Distance Walkers Association and takes place on the weekend of the Queen's Diamond Jubilee, from Victoria Park to Windsor, taking in all of the Olympic Games venues.
Jim added: "I tried the 100-mile event before in Berlin, but only made it to 72 miles, so I hope to make it all the way this time. This year is certainly going to be very special."
-Ends-
Notes to editors:
• For further information about the London Ambulance Service or this news release please contact the communications department on 020 7783 2286.
• Find out more about the London Ambulance Service at www.londonambulance.nhs.uk or follow us on Twitter at www.twitter.com/ldn_ambulance
• The Olympic torch features 8,000 small cut-out circles, representing the 8,000 people who will carry it around the UK. It stands 800mm high and weighs 800 grams. It is made from a special aluminium alloy.