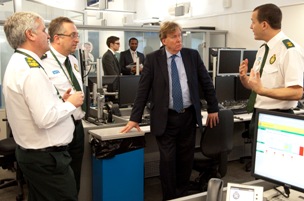 The London Ambulance Service today (Wednesday 11 January) welcomed Minister of State for Health Simon Burns to its event control room, which will be used to manage the day to day response to the 2012 Games.
Mr Burns, MP for Chelmsford, was given a tour of the control room in Bow, East London, and heard how the Service's plans for the Games are progressing.
London Ambulance Service's Head of Olympic Planning, Peter Thorpe, said: "We're really pleased that Mr Burns was able to come and see how we're preparing for the Games.
"We have been planning since 2007 and now it's less than 200 days to go. We're expecting to be very busy – and we could see demand increasing by up to nine percent at peak times, which would be an increase of around 360 calls a day. We're very well practiced at covering large-scale events, such as Notting Hill Carnival and the London Marathon, however, it will be a challenge for us to be so busy over such an extended period of time."
During the London 2012 Olympic and Paralympic Games, the ambulance service will be providing support to the London Organising Committee of the Olympic and Paralympic Games (LOCOG) – the main first aid and emergency healthcare provider at Games venues. Staff will be working closely alongside them inside venues and at cultural events across London, as well as providing any necessary transport to hospitals.
 
Health Minister Simon Burns said: "I am delighted to be visiting the hub of ambulance event planning for the 2012 Olympic and Paralympic Games in Bow and meeting with staff from the London Ambulance Service (LAS) who will be providing vital services for the public during the Games.
"It will be an exciting but challenging time for our emergency services with an estimated increase of up to 600,000 visitors per day, and this visit is a great opportunity for me to see how the LAS's proven skills and experience will be employed to ensure a fantastic and successful Games here in London."
– Ends –
Notes to editors:
• The Event Control Room it is already used for large-scale events, such as Notting Hill Carnival, London Marathon, the Royal Wedding and major pre-planned protests with capacity for up to 35 members of staff. 999 calls are answered as normal in the emergency operations room (in Waterloo headquarters). The patient's information is taken from the call taker, however, if the location of the incident is within the event footprint, the call is automatically passed to the event control room, where staff dispatch resources (eg ambulance crew, cycle responder, foot teams etc). It will work in a similar way during the Olympic and Paralympic Games and will be in operation 24/7.
• For further information about the London Ambulance Service or this news release please contact the communications department on 020 7783 2286.
• Find out more about the London Ambulance Service at http://www.londonambulance.nhs.uk/ or follow us on Twitter at www.twitter.com/ldn_ambulance