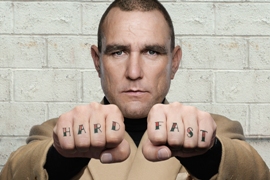 The London Ambulance Service has backed the British Heart Foundation's 'hands-only CPR' campaign.
In an advert featuring footballer-turned-actor Vinnie Jones, members of the public are encouraged to call 999 and use chest compressions if they witness a cardiac arrest, but to forget mouth to mouth.
First Responders Manager Chris Hartley-Sharpe said: "We fully support this campaign encouraging people to call 999 and start chest compressions immediately if they see someone collapse and stop breathing.
"By carrying out cardiopulmonary resuscitation while an ambulance is on the way you can double someone's chances of survival from a cardiac arrest, even if you don't perform mouth to mouth."
Chris continued: "Thanks to the hard work of our staff more Londoners than ever are surviving an out-of-hospital cardiac arrest, but bystanders only attempt lifesaving intervention before ambulance crews arrive 37 per cent of the time, according to our latest figures.
"Getting a defibrillator, a machine that can restart the heart by delivering an electric shock, to someone quickly if they're suffering a cardiac arrest will also greatly increase their chances of survival."
"We now have a team of dedicated paramedics funded by the British Heart Foundation (BHF) who are working in the community to teach people Heartstart, a simple life-saving course."
To find out more about how you can learn to save a life please contact Antoinette Williamson in our Community Resuscitation team on 020 7783 2534 or email [email protected].
– Ends –
Notes to editors:
Overall cardiac arrest survival rate – 259 out of 3,246 cardiac arrest patients who ambulance staff attempted to resuscitate survived to be discharged from hospital (eight per cent). In 2009/10, 237 out of 2,973 cardiac arrest patients treated by ambulance staff survived (also around eight per cent).
Utstein cardiac arrest survival rate – The Utstein cardiac arrest survival rate in London in 2010/11 is 22.8 per cent, up from 21.5 per cent the previous year. This is the highest level it has ever been in London.
The cardiac arrest survival figure is calculated using the internationally-recognised Utstein method. The calculation takes into account the number of patients discharged alive from hospital who had resuscitation attempted following a cardiac arrest of presumed cardiac aetiology, and who also had their arrest witnessed by a bystander and an initial cardiac rhythm of ventricular fibrillation or ventricular tachycardia.