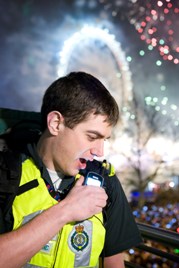 As thousands of revellers across the capital welcomed 2012, London Ambulance Service staff were dealing with an exceptionally busy night.
Staff in the Service's control room were taking an average of 10 emergency calls every minute in the hours after midnight – up until 4am they answered a total of 2,333 emergency calls.
The 13 treatment centres, operated with St John Ambulance, treated a total of 274 patients and 55 of them were taken to hospital.
Assistant Director of Operations John Hopson, who led the Service's response on New Year's Eve, said: "Demand on the Service in the early hours was extremely high and a lot of that extra demand was because of alcohol-related calls. At the busiest point of the night, our staff were taking 638 emergency calls an hour – that's an increase of 255 per cent on what they would expect to deal with on a normal night."
"We had to prioritise calls to make sure the most seriously ill and injured patients got help as quickly as possible – that meant more patients than normal with minor illnesses and injuries were given advice over the telephone rather than automatically being sent an ambulance.
"Throughout the night we used extra resources, such as alternative response vehicles or 'booze buses', as well as staff on foot with medical equipment. We've also been working closely with St John Ambulance at temporary treatment centres meaning we were able to ensure that people out celebrating in the centre of London received the most appropriate medical care as quickly as possible.
"I'd like to thank all of our frontline staff who have been working extremely hard to care for patients on a very busy night, and the people in our control room who have been dealing with an exceptionally high number of calls."
NEW YEAR'S EVE IN NUMBERS
The Service's control room usually takes an average of 180 calls an hour. The breakdown of calls per hour was as follows:
New Year's Day 2012

Hour

Number of calls received in the control room

00.00 – 01.00

527

01.00 – 02.00

629

02.00 – 03.00

638

03.00 – 04.00

539

Total number of calls 00:00 – 04:00

2,333
Notes to editors
For further information about the London Ambulance Service or this news release please contact the communications department on 020 7783 2286.
Follow us on Twitter at www.twitter.com/ldn_ambulance