Volunteers to drive six old London ambulances to Mongolia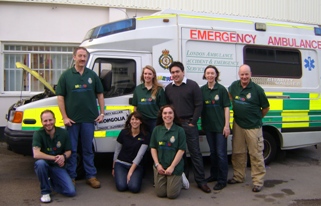 Six decommissioned London ambulances will be setting off in convoy on an epic 10,000-mile road trip to Mongolia from Horse Guards Parade this Saturday at 10.30am.
A team of 20 volunteers will be driving the Leyland DAF ambulances, which previously served Londoners for over ten years, through Europe, Russia and Kazakhstan before handing over the vehicles to healthcare providers in the Mongolian capital Ulaanbaatar.
The team, made up of volunteers from the London Ambulance Service, international aid charity Go Help and children's charity MERU, will take around five weeks to complete the trip, as part of the Mongolia Charity Rally.
London Ambulance Service volunteer Tim Saunders, one of the trip team leaders, said: "These ambulances have reached the end of their active life in London and so we're taking them where they can continue to help people on the other side of the world.
"We're trying to raise as much money as possible to get the ambulances out there. We're also raising money for children's charity MERU."
To help raise funds for the trip, the team have made a charity single 'Breakfast in Mongolia'; based on the 1979 Supertramp hit 'Breakfast in America'.
To find out more about the trip, buy the charity single or donate money, please visit the team's blog http://www.ambostomongolia.blogspot.com/
Media who would like to attend the launch are asked to contact Alistair Drummond on 020 7783 2115.
Notes to editors:
For further information about the London Ambulance Service or this news release please contact the communications department on 020 7783 2286.
Follow us on Twitter at www.twitter.com/ldn_ambulance or visit us on facebook at www.facebook.com/londonambulanceservice
MERU is a small charity based in Epsom, Surrey, and is the London Ambulance Service Chief Executive's nominated charity. They design and manufacture bespoke equipment for children and young adults with disabilities, where there is no other mainstream solution available on the market. 
Go Help is a small UK charity that develops innovative fundraising events to fund sustainable health and education projects across Central Asia. The Mongolia Charity Rally and the Roof of the World Rally are Go Help's two major fundraising events.