London Ambulance Service fights flu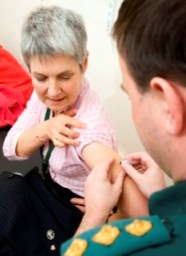 London Ambulance Service staff are fighting flu by getting vaccinated against the virus that killed more than 600 people in the UK last winter.
So far, over 1000 staff have received their jabs at flu clinics held in ambulance stations across the capital.
Medical Director Fionna Moore said: "The flu vaccination is a really easy way staff can protect themselves from flu and in doing so help protect the more vulnerable members of our community who they come into contact with."
Director of Health Promotion and Quality Steve Lennox said: "Flu is a nasty infection. We can trivialise it and think it's nothing worse than a headache and sweating but it can make you feel really unwell and put you in bed for five days. In some cases it can lead to serious complications and an admission to hospital.
 "Some people are more susceptible to the risks associated with flu and can't fight it off as easily as others. GPs are offering the flu jab free to all those in at-risk groups – this includes the over 65s, pregnant women and people with long-term conditions like heart or lung disease.
"By getting the vaccination our staff are helping to stop the spread of flu and ensuring they cannot pass the virus on to their patients and more vulnerable groups."
-Ends-
Notes to editors: