Ambulance workers join Pride parade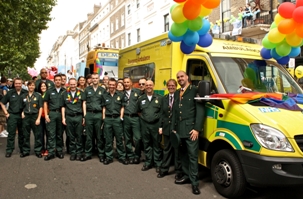 Around 40 members of London Ambulance Service staff, including their friends and families took to the streets to celebrate Pride London.
The group drove an ambulance, fast response car and cycle ambulance along the parade route through central London from Portland Place to Trafalgar Square.
Thousands of spectators lined the streets before attending the festival events at Trafalgar Square and Soho.
Ambulance Operations Manager and Chair of LAS Pride Trevor Hubbard said: "It was a great atmosphere, and we had a brilliant reception from the crowds, who clapped and cheered as we went along the hour-and-a-half-long route.
"It's very important to our staff that they have the opportunity to take part in this event. It's also great for us as an ambulance service to promote the importance of equality and diversity in our organisation and get involved with the community and show our support for lesbian, gay, bisexual and transgender people."
During the event, around 50 ambulance staff including foot teams and cycle responders, treated around 120 patients, mainly for alcohol-related illnesses and minor injuries and 32 were taken to hospital.
Notes to editors:
For further information about the London Ambulance Service or this news release please contact the communications department on 020 7783 2286.