Beckenham MP praises ambulance staff for 'fantastic commitment'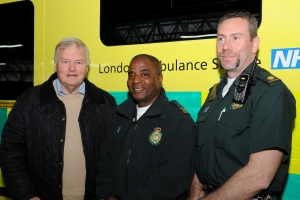 Colonel Bob Stewart, MP for Beckenham, visited Bromley ambulance station on Friday (18 November) and joined a crew for a shift to get a first hand view of the job our staff do.
Mr Stewart spoke to staff based at the station about their job and training, chatted to managers about the challenges facing the Service and then joined Paramedic Rod Bryant and Emergency Medical Technician Tony Scantlebury for an ambulance shift.
Tony said: "It was a good opportunity to show the local MP the work we do and the types of incidents we attend in and around Bromley. Hopefully the time he spent with us gave him a valuable insight in to how we treat patients and respond to incidents."
During his time with the crew, the MP attended two road traffic collisions in the Bromley area.
Mr Stewart said: "What most impressed me was the fantastic commitment and kindness which was displayed by members of Bromley ambulance station.
"Of course it was a real privilege to go out with Tony and Rod in their ambulance and I learnt an incredible amount about how the London Ambulance Service works."
Notes to editors: