Medics save choking toddler on bonfire night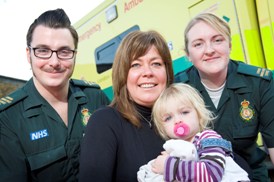 A two-year-old girl was today reunited with the ambulance crew who saved her life on bonfire night.  
Evie Spillane, together with her parents and older sister Grace, was enjoying the fireworks at Ealing Cricket Club on 5 November when she suddenly stopped breathing.
Her mum Debbie said: "Evie was sat in her pushchair when I noticed she was choking on something and couldn't breathe. I slapped her on her back a few times but nothing happened. A friend of mine, who is a teacher and has regular first aid training, took over but could still not help her.
"When I saw her lips go blue, I couldn't take it any longer and a friend took her in his arms to run to the St John Ambulance treatment tent."
Luckily, Hanwell Student Paramedics Jo Walker and David King were already at the cricket club, looking for another patient. David said: "There were thousands of people on the field and we were walking around trying to find a patient when suddenly a man carrying Evie ran into us. I slapped her on the back quite hard and thankfully she started to breathe again."
The crew took Evie to Ealing Hospital where she was checked over and released a few hours later.
 
Debbie added: "I am so thankful to Jo and David. Had they not been there, it might have ended horribly. I have now enrolled on a baby and child first aid course to make sure I know exactly what to do in an emergency when every second really is the difference between life and death."
 
Notes to editors:
Another ambulance crew treated the original patient, a woman in her 60s, who had taken unwell, and took her to Central Middlesex Hospital.
For further information about the London Ambulance Service or this news release please contact the communications department on 020 7783 2286. 
Follow us on Twitter at www.twitter.com/ldn_ambulance or visit us on facebook at www.facebook.com/londonambulanceservice