Remember Remember stay safe this November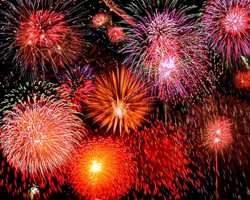 The London Ambulance Service is reminding Londoners to stay safe this weekend and take care when handling fireworks.
 
Every year the Service is called to a number of patients who have firework and bonfire-related injuries, and this year will be no exception.
Fenella Wrigley, Deputy Medical Director, said: "Around 5 November our ambulance crews will treat a number of patients, children and adults, ranging from those with minor burns to those with more serious, life-threatening injuries.
"It is easy to forget how dangerous fireworks, bonfires and even sparklers can be. Sparklers get five times hotter than cooking oil and a rocket can reach speeds of 150mph."
Last year the Service treated 17 people for burns following an accident with a firework. Fifteen of the patients were children.
Fenella said: "Throughout the celebrations please remember to keep a watchful eye on your children and to keep them out of harm's way and if you are handling or lighting fireworks yourself remember to follow all the safety rules.
"Fireworks used properly are safe and accidents are avoidable. However, they can cause devastating injuries or even death if safety precautions are not followed or judgement is impaired through alcohol consumption.
"We recommend that people go along to a professionally-organised public display. But, if you are planning to host your own event, we urge you to exercise caution and make safety a priority to ensure everyone has a good time without getting hurt."
In the event of an accident with fireworks or fires you should:
extinguish any flames if the casualty is alight
use cold water (ideally cold running water) to cool the burnt area and reduce pain
not remove burnt clothing which has stuck to the skin
not use any creams, oils etc
seek urgent medical help, calling 999 if injuries are serious. (For minor injuries consider visiting a minor injuries unit or contact NHS Direct on 0845 4647.)
If you or a member of your family does suffer any type of burn or accident, you should seek appropriate medical attention or advice as soon as possible.
For more information on firework safety, please visit The Royal Society for the Prevention of Accidents (RoSPA) Safer Fireworks website: www.saferfireworks.com
or NHS Choices website at: http://www.nhs.uk/livewell/fireworksafety/Pages/Fireworksafety.aspx
Notes to editors:
For further information about the London Ambulance Service or this news release please contact the communications department on 020 7783 2286.
Follow us on Twitter at www.twitter.com/ldn_ambulance