BBC See Hear appearance for paramedic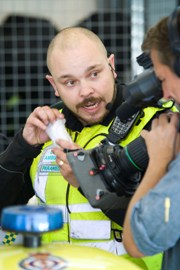 A motorcycle paramedic who works to improve ambulance care for the deaf community will appear on BBC See Hear this Wednesday (19 October).
Richard Webb-Stevens was interviewed about his work in the London Ambulance Service Motorcycle Response Unit in Waterloo, and his role in the Service's Deaf Awareness Forum.
Richard, 37, said: "Hopefully the programme will help with the work we're doing to improve accessibility and the overall experience for patients from the deaf community.
"One in seven people in the UK are affected by some degree of deafness, so we're encouraging the use of the 'emergencySMS' service, which allows deaf, hard of hearing and speech impaired people to contact 999 by sending a text message."
BBC See Hear will be aired on BBC Two at 1pm on Wednesday.
– Ends –
Notes to editors: