Ambulance Service helps Libyan victims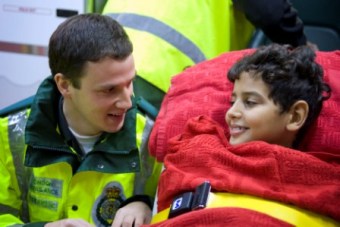 London Ambulance Service coordinated the transfer of 50 seriously-injured Libyan patients to the UK for NHS treatment in October.
Following Prime Minister David Cameron's pledge for the NHS to provide treatment and rehabilitation to the patients, the Service was asked by the Department of Health to coordinate the process. Each victim was flown to a UK airport and transferred by the local NHS ambulance service to hospital for treatment.
The first patient was 15-year-old Abdul Malik Elhamdi from the Libyan capital, Tripoli. The teenager – who is now being treated at St Mary's Hospital in west London – was left with shrapnel embedded in his leg after playing with a bomb he found in his school playground.
As part of the arrangements to support the transfer process, Director of Operations Richard Webber travelled with Professor Keith Willett, Head of Trauma at the Department of Health, to Tripoli. During the six-day visit they put processes in place to ensure the most seriously injured patients were selected and matched to hospitals to treat their specific injuries.
Richard said: "Ambulance crews around the country met victims of the recent conflict from British airports and managed their care during their onward journey to a UK hospital.
"We worked with the Department of Health, the UK Border Agency and the Foreign and Commonwealth Office, as well as other ambulance and hospital trusts across the UK to make sure all of the patients received the best possible care during their time here."
The full cost of care for all patients is being met by the Libyan government.
-Ends-
Notes to editors: