Ambulance service helps more Libyan conflict victims get treatment in the UK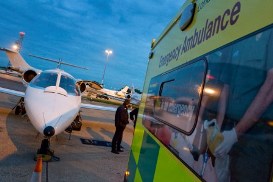 London Ambulance Service has coordinated the transfer of twelve seriously-injured Libyan patients to the UK for NHS treatment in the last 24 hours.
Up to 50 patients are expected to arrive in the next few weeks for specialist care and rehabilitation.
Director of Operations Richard Webber, said: "Ambulance crews around the country have been meeting victims of the recent conflict from British airports and managing their care during their onward journey to a UK hospital."
North East Ambulance Service staff yesterday met three victims of the conflict and took them to The James Cook University Hospital, Middlesbrough, where they are undergoing treatment for injuries including gunshot and blast wounds.
Richard said: "The early transfers are going well, and further patients have been identified who will be brought to the UK in the coming days and weeks for treatment.
"We are working with the Department of Health, the UK Border Agency and the Foreign and Commonwealth Office, as well as other ambulance and hospital trusts across the UK to make sure all of the patients we have identified receive the best possible care during their time here."
The full cost of care for all patients is being met by the Libyan government.
-Ends-
Notes to editors:
London Ambulance Service is coordinating the evacuation of up to 50 Libyan patients to the UK for treatment and rehabilitation.
Director of Operations Richard Webber and an NHS colleague travelled to Tripoli last week (26 September) to set up the process to assess patients and establish the most appropriate care for their condition. Once they are matched to a suitable UK hospital, the Service manages logistics across all agencies and organises the patient's transfer to a nearby airport. Patients are being collected from the airport by the local ambulance trust.
The first patient from Libya, Abdul Malik Elhamdi, arrived in the UK on 23 September. For more information on this and pictures of Abdul please contact the communications department on 020 7783 2286.
You can also find us on Twitter, www.twitter.co.uk/Ldn_ambulance and facebook www.facebook.com/londonambulanceservice