London Ambulance Service sees increase in patients with breathing problems as temperatures soar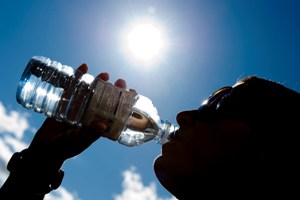 The London Ambulance Service is urging Londoners to look after themselves as hot, sunny weather makes a late return to the capital.
With temperatures hitting 27c, staff in the Service's control room have seen a 20 per cent increase in 999 calls for people with breathing difficulties.
Assistant Chief Ambulance Officer John Pooley said: "We always see a rise in 999 calls in hot weather and a lot of that is because the heat makes pre-existing conditions like asthma worse, and of course people can get dehydrated from too much sun."
Across the board, emergency calls were up by 25 per cent yesterday (Thursday 29 September) compared to Thursday last week, and at the busiest times staff were answering over 44 per cent more emergency calls than normal.
John added: "To make sure you don't become a casualty of the weather make sure you carry any medication with you at all times, avoid the sun at the hottest part of the day and drink plenty of water.
"I'd ask Londoners to help us to respond to the most seriously ill people – like those whose heart has stopped beating or people with serious injuries – by only calling 999 in a genuine emergency.
 "As ever, we'll continue to prioritise our response to these patients, and anyone with a minor condition should call NHS Direct on 0845 46 47, or visit a minor injuries unit, walk-in centre or local pharmacist."
You can look after yourself in the heat by:
Avoiding the sun at the hottest part of the day, usually between 11am and 3pm
Keeping as cool as possible – wear a hat when sitting or working outside and use plenty of suncream
Checking up on friends, relatives and neighbours who may be less able to look after themselves
Carrying prescribed medicines for chronic respiratory conditions such as asthma and bronchitis
Drinking plenty of water and avoid drinking alcohol in the sun
Contacting your doctor, pharmacist or NHS Direct (0845 46 47 or http://www.nhsdirect.nhs.uk/) if you are worried about your health. In an emergency, dial 999 for an ambulance.
– Ends –
Notes for editors                                                                 
Data compares Thursday 29 September 2011 with Thursday 22 September 2011.
Between 10am and 10pm yesterday, the Service received 2,951 emergency calls – an increase of 24.6 per cent on the previous Thursday (2,368 calls).
The busiest hour yesterday saw staff in the control answer 288 emergency calls.
The busiest hour in terms of an increase on last Thursday was between 4pm and 5pm when staff answered 44.3 per cent more emergency calls than the same hour last week (254 calls compared to 176).
For more information please contact the communications department on 020 7783 2286
Follow us on Twitter at www.twitter.com/ldn_ambulance or find us on Facebook at www.facebook.com/londonambulanceservice