New ambulance interior design revealed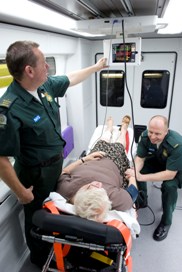 A new design of the interior of an emergency ambulance was launched today as part of the London's Design Festival.
Since 2006 London Ambulance Service staff have been working with the Royal College of Art and other partners to come up with a design that would match the skills of today's paramedics and improve the space for patients.
Designers have changed the layout of the treatment area, moving the trolley bed from the side of the vehicle to the middle – enabling easy, 360 degree access to patients.
The equipment staff need is neatly packed into the body of the vehicle making cleaning and infection control much easier.
The vehicles are also kitted out with advanced technology enabling staff to monitor patients' vital signs – such as heart rate and blood pressure – on one screen and quickly send information to the receiving hospital.
Imperial College London's Professor Lord Darzi, who has been involved in the design, said: "The project started six years ago and the innovation will help us improve the quality of care patients receive. Ambulances were originally built to simply transport patients to hospital but today's paramedics initiate the treatment and take patients to the best place for their needs, often bypassing the nearest A&E.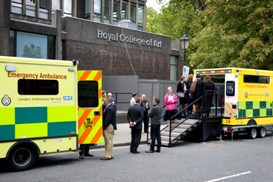 "Ambulance services, especially the London Ambulance Service, have taken the leadership to address current challenges in emergency healthcare and the 'smart ambulance of the future' will help them to deliver that highest level of care."
Paramedic Dixie Dean, who worked on the project, said: "The design team's approach of involving clinical staff from the beginning has ensured the current design will improve the experience for patients and create a better treatment space. 
"My colleagues and I have tested the prototype by treating mock patients and are fully supportive of the new design."
Notes to editors:
The launch event was held at the Royal College of Art Helen Hamlyn Centre for Design.
The project is funded by NHS London.
For further information about the London Ambulance Service or this news release please contact the communications department on 020 7783 2286. 
Follow us on Twitter at www.twitter.com/ldn_ambulance or visit us on facebook at www.facebook.com/londonambulanceservice