Double dose of recognition for Friern Barnet twins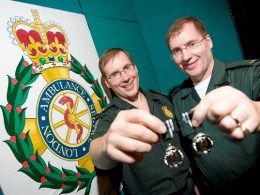 Identical twins who applied to join the London Ambulance Service together 20 years ago and now work together on the same ambulance in Friern Barnet, were awarded a long service and good conduct medal at a ceremony last week.
Emergency Medical Technician, Chris McCarthy, 49, and paramedic twin brother, Mark McCarthy, both joined the Service in 1991 and were formally recognised for their long service at a central London ceremony.
The brothers had previously worked as London Taxi drivers for five years but Chris said: "It's sole destroying sitting in traffic jams. We wanted to work with the public and help them. Working for the London Ambulance Service has given us much more job satisfaction."
On completion of his training Mark, of Swan Lane, Whetstone, worked from ambulance stations in Camden and North Kensington. Chris, of Montpelier Road, Finchley, worked from the Friern Barnet complex.
Mark said: "Ten years ago I moved to Mill Hill and Chris joined me six months ago. We're now working together on the same shifts."
But it doesn't cause any confusion for patients according to Mark. He said: "Adults don't spot that we're twins but as soon as we walk into a room the children notice."
Its not the first time the duo have worked together. After leaving school Chris and Mark worked for the same company before applying to be London taxi drivers.
Chris said: "We always do everything together – it's a twin thing. You're never alone and I've always got my best mate with me – even at work."
Twenty seven other members of staff and retirees who clocked up more than 630 years' service in the country's busiest ambulance service were recognised at the ceremony.
Along with Chris and Mark, 15 frontline staff who completed 20 years service received the Queen's Ambulance Service Long Service and Good Conduct medal. Six of their colleagues received the Long Service Medallion. The medals were presented by Chief Executive Peter Bradley.
Six retirees from across the organisation, with a combined 171 years service, were presented with glass blocks, commemorative ambulance bells and a certificate by Chairman Richard Hunt.
Richard said: "Congratulations to everyone who received an award. They are such tremendous examples of the commitment and dedication to caring for patients and that is at the heart of what we do. They are an inspiration to us all."
– Ends –
Notes to editors: