Match of the days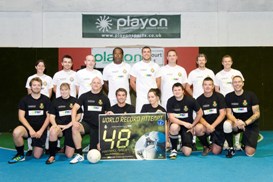 Sixteen staff broke the world record for the longest  five-a-side football match at the weekend. 
It was a huge endurance challenge and they played for an amazing 43 hours. The final score was White 1030 – 918 Black, a goal in every 90 seconds.
Smithfield Cycle Responder Mark Scott, who came up with the idea, said: "It was tough and there were a few injuries but nothing too bad.
"We had to play 'in the spirit of the game' to be considered for the record and camped out next to the pitch to get some rest over the weekend."
Mark added: "The match was in aid of MERU, the Chief Executive's charity. MERU is close to my heart as my three-year-old nephew who has cerebral palsy has benefited from similar equipment the charity builds and designs."
It is not too late to support the world record breaking team by making a donation at http://www.justgiving.com/worldrecordfootballmatch
Notes to editors: