Staff set to score a world record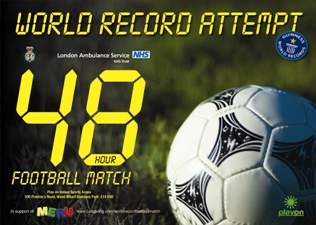 Sixteen London Ambulance Service staff will attempt to break the world record for the longest five-a-side football match this weekend. They are up against a huge endurance challenge as the current record stands at a strength-sapping 42 hours.
Smithfield Cycle Responder Mark Scott, who came up with the idea, said: "We'll be playing for up to 48 hours and the whole match has to be played 'in the spirit of the game' to be considered by the Guiness World Records. I know it's daunting but I'm confident that we'll be able to do it."
Team captain Ashley Strawbridge was once on the books of women's teams including Chelsea, Arsenal and QPR. The central midfielder said: "I've been playing football competitively since I was ten but now only play for pleasure.
"It will be a very long match but we're all fit and have trained hard. We'll have to spend the 48 hours pitch side and will take sleeping bags and air beds with us to get some rest."
Mark added: "We're hoping to raise as much money as possible for the Chief Executive's charity, MERU, which is close to my heart as my three-year-old nephew has cerebral palsy has benefited from similar equipment MERU builds and designs."
The team will start its epic match tomorrow (9 September) at 7pm and you can support the effort by making a donation at http://www.justgiving.com/worldrecordfootballmatch
The record attempt will be held at Play on Indoor Sports Arena, 100 Preston's Road, E14 9SB.
Notes to editors: