Paramedic makes a difference
A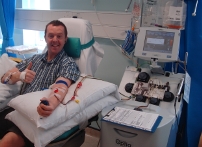 London Ambulance Service motorcycle paramedic who donated stem cells for a sick patient said it left him feeling 'on cloud nine'.
Waterloo-based Lee Davis has given blood since he was a teenager and five years ago asked to be added to the bone marrow register.
After receiving a phone call to say he was the 'best match' for a patient, he went for a pre-operation medical check and counselling session. He was injected with growth hormones for three days prior to the operation to increase the number of cells and the procedure itself took around seven hours and he was back at work the next day.
He said: "I always get a real sense of fulfilment from giving blood and as a paramedic you see patients day in and day out who need blood transfusions. If colleagues in the Service help out, it's a great example to the public. I get so much out of giving blood that I thought I'd sign up to the bone marrow register too." 
The patient and donor remain anonymous to each other for two years, when there is a chance for them to get in touch if they want to.
Lee added: "I would definitely do it again at the drop of a hat. I'd like to raise awareness of the register and would encourage people to go and give blood and then sign up to the register. I think a lot of people don't even know it exists, but it really does make a difference."
– Ends –
Notes to editors:
• For further information about the London Ambulance Service or this news release please contact the communications department on 020 7783 2286.
• Find out more about the London Ambulance Service at http://www.londonambulance.nhs.uk/, follow us on Twitter at www.twitter.com/ldn_ambulance or visit our Facebook page at www.facebook.com/londonambulanceservice
• For more information on bone marrow donation visit http://www.nhsbt.nhs.uk/bonemarrow/ or http://www.anthonynolan.org/