Notting Hill Carnival patient numbers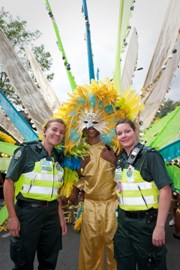 Hundreds of people visiting or taking part in Notting Hill Carnival needed medical help at the weekend. The total number of casualties was lower than the previous year but more people needed hospital treatment.
Over the course of two days, the London Ambulance Service worked with St John Ambulance to treat 681 patients, with 138 of those taken to hospital.
Most people were treated for minor injuries or illness at one of the 11 treatment centres set up by St John Ambulance.
Performance Improvement Manager Paul Gates, who was in charge of all medical arrangements at the Carnival, said: "We've had a busy few days and over 150 staff were on duty on both Sunday and Monday.  We planned extensively for the event and by working closely with St John Ambulance, the police and organisers were able to provide effective medical help for the crowds enjoying the Carnival.
"I would like to thank everyone who has been involved in delivering care to the large number of patients and for playing their part making the Carnival an enjoyable event."
– Ends –
Notes to editors: