Hundreds of medical staff on duty for Notting Hill Carnival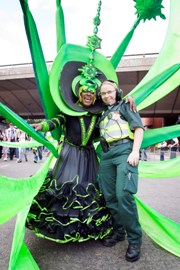 Additional London Ambulance Service staff will be on duty for this year's Notting Hill Carnival to ensure a safe and enjoyable event for the one million visitors who are expected to attend.  
The Service will be working in partnership with St John Ambulance, who will set up 11 treatment centres where the majority of patients will receive first aid. St John staff will be supported by a team of Service staff specially trained to work in large crowds, as well as cycle responders, ambulance crews and control room staff. 
Performance Improvement Manager Paul Gates, who will be overseeing medical arrangements for the Carnival, said: "This is always a great event and we hope that everyone who attends has an enjoyable time.
"We've reviewed our plans after the recent disturbances across London and we'll have extra staff on duty this year. As always, we'll be working closely with St John Ambulance and other emergency services to make it as safe as we can for everyone involved.
"I would urge people with minor injuries and illnesses to make their own way to one of the treatment centres. This will be the quickest way to access medical help.
"Visitors to the Carnival can also help themselves by making sure they bring with them any prescription medicines, suncream or even waterproof clothing depending on the weather. It's also important to drink plenty of water. 
"If there is a medical emergency, dial 999 with details of what has happened and the exact location where help is required, taking note of the street name and nearest junction if you can see it."
Notes to editors:
145 London Ambulance Service staff will be on duty at the Carnival on Sunday 28 August and 160 on Monday 29 August.
For further information about the London Ambulance Service or this news release please contact the communications department on 020 7783 2286.
Follow us on Twitter at www.twitter.com/ldn_ambulance or visit us on Facebook at www.facebook.com/londonambulanceservice