Swap shop raises cash for riot victims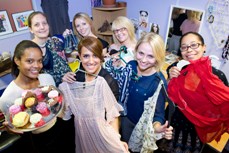 Ambulance staff transformed their office into a boutique for a clothes swap to raise funds for those who were left homeless after the riots.
Staff exchanged their skirts for shirts and trousers for tops at the event held earlier this week (23 August). A raffle was also drawn, with generously donated prizes including hundreds of pounds of vouchers and a digital camera.
A total of £840 was raised for the Tottenham Fund, which will go towards rebuilding the community of Haringey. John Lewis and B&Q vouchers were also donated straight to the fund.
 
Marina Koniotou, one of the organisers from the Service's Clinical Audit and Research Unit, said: "A lot of London Ambulance Service staff were working on the frontline during the riots and saw first hand the destruction caused to local homes and businesses. All our staff were really keen to donate money and buy raffle tickets and hopefully this money will go a small way to helping the people who lost their homes rebuild their lives.
"I also live in Enfield and so witnessed all of the damage, which I found very distressing and I think many people felt the same.
 
"We're really grateful to all of the companies who were so generous and donated brilliant prizes. My colleague Sarah Joy also did a fantastic job of transforming the office into a boutique!"
Thanks to the following companies for their donations:
• John Lewis – vouchers
• Arcadia – donation straight to the Tottenham Fund
• Ricoh – digital camera
• Tottenham FC – signed pennant
• Greggs – vouchers
• B&Q – vouchers straight to the Tottenham Fund
• London Dungeons – four tickets
• Ritzy Picturehouse in Brixton – two cinema tickets
• Roxy Bar & Screen – dinner and movie for two
• Tate Britain – two exhibition tickets
– Ends –
Notes to editors:
• For further information about the London Ambulance Service or this news release please contact the communications department on 020 7783 2286.
• Find out more about the London Ambulance Service at www.londonambulance.nhs.uk or follow us on Twitter at www.twitter.com/ldn_ambulance or visit us on facebook at www.facebook.com/londonambulanceservice
• To find out more about the Tottenham Fund visit http://www.haringey.gov.uk/tottenham_fund.htm