Ambulance service appeals for more Londoners to learn lifesaving skills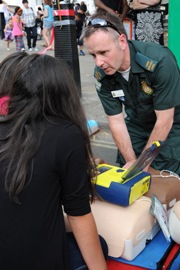 More Londoners than ever are surviving a cardiac arrest, but bystanders are only performing simple lifesaving skills in just over a third of cases.
A total of 259 people whose heart suddenly stopped at home or in public were resuscitated and discharged from hospital in 2010/11, 22 more people than the previous year.
However, bystanders only attempted the lifesaving intervention before ambulance staff arrived in 37 per cent of out-of-hospital cardiac arrests, according to the latest London Ambulance Service figures.
London Ambulance Service Medical Director Fionna Moore said: "Thanks to the hard work of our staff in reaching patients quickly and providing an excellent level of care, the number of Londoners surviving an out-of-hospital cardiac arrest has gone up for the third consecutive year.
"However, bystanders are only stepping in to help cardiac arrest patients before ambulance staff arrive just over a third of the time. If you witness a cardiac arrest, you can effectively save someone's life by calling 999 for an ambulance straight away and carrying out basic life support.
"We now have a team of dedicated paramedics funded by the British Heart Foundation (BHF) who are working in the community to teach people Heartstart, a simple life-saving course."
In public places around the capital, like train stations, where staff are trained to use a defibrillator to shock a person's heart if it stops, the cardiac arrest survival rate is much higher than the rest of London (32 per cent).
There are over 600 public-access defibrillators, donated by the BHF, across London.
Senior Cardiac Nurse at the BHF Ellen Mason said: "These statistics show that bystanders are only stepping in to help save a life in little over a third of cases which simply isn't enough. With each minute that passes before defibrillation, the chances of survival are reduced by about ten per cent.
"The British Heart Foundation's partnership with the London Ambulance Service has helped get our Heartstart Emergency Life Support (ELS) skills training and defibrillators to the places they are most needed across the city. We now want more Londoners to sign-up to one of our Heartstart courses and learn ELS – it could save someone's life."
The figures were published this week in the London Ambulance Service 2010/11 Cardiac Arrest Annual Report.
Keith Grey, 41, was working out in his gym when he suffered a cardiac arrest in October last year.
Luckily for primary schoolteacher Keith, the staff at the Central YMCA Club, Bloomsbury, had been trained by the London Ambulance Service in basic life support and how to use a defibrillator.
The gym has a public-access defibrillator which was partly funded by the British Heart Foundation.
Gym staff immediately recognised Keith's symptoms, called 999 for an ambulance and began basic life support.
They shocked his heart with the defibrillator and his heartbeat returned.
A motorcycle paramedic, ambulance crew and single responder arrived soon afterwards and provided advanced life support. Keith was taken to University College Hospital for further treatment.
Keith was diagnosed with an irregular heart rhythm and fitted with an internal cardioverter defibrillator. He was back at work in the New Year.
Central YMCA Club Director Barry Cronin said: "With an average of 1,000 people using Central YMCA Club every day, we believe it is vital that our staff are fully trained and confident in basic life support and in using defibrillators. 
"Thanks to the training we received from the London Ambulance Service our staff have successfully managed to deal with two incidents in which our Club members required urgent medical attention, and in both cases they were critical in saving lives."
– Ends –
Notes to editors:
For further information about the London Ambulance Service or this news release please contact the communications department on 020 7783 2286.

Follow us on Twitter at www.twitter.com/ldn_ambulance or visit us on facebook at www.facebook.com/londonambulanceservice

If you would like to learn to save a life, find out more about our resuscitation training courses.

Overall cardiac arrest survival rate
259 out of 3,246 cardiac arrest patients who ambulance staff attempted to resuscitate survived to be discharged from hospital (eight per cent). In 2009/10, 237 out of 2,973 cardiac arrest patients treated by ambulance staff survived (also around eight per cent).
Utstein cardiac arrest survival rate
The Utstein cardiac arrest survival rate in London in 2010/11 is 22.8 per cent, up from 21.5 per cent the previous year. This is the highest level it has ever been in London.
The cardiac arrest survival figure is calculated using the internationally-recognised Utstein method. The calculation takes into account the number of patients discharged alive from hospital who had resuscitation attempted following a cardiac arrest of presumed cardiac aetiology, and who also had their arrest witnessed by a bystander and an initial cardiac rhythm of ventricular fibrillation or ventricular tachycardia.
Additional figures from London Ambulance Service Cardiac Arrest Annual Report 2010/11 – Authors: Gurkamal Virdi and Lynne Watson
Around two thirds of cardiac arrests in London occurred in the home (67.7 per cent)

Just over a fifth of cardiac arrests occurred in public (20.8 per cent)

Of those arrests in public:

55 took place in a tube, rail or bus station

44 took place in a shop

33 took place in a leisure centre or sports facility

26 took place in an airport

14 took place in a hostel or hotel

14 took place in a pub or club

11 took place in a place of worship

8 took place in a restaurant

Between a third and a half of all cardiac arrests were witnessed by bystanders (44.1 per cent)

However, bystanders only attempted basic life support before ambulance staff arrived in just over a third of all cardiac arrests (36.7 per cent)

The average age of a cardiac arrest patient was 68

The majority of patients (64 per cent) were male

Female patients were on average six years older than males (72 compared with 66)

Cardiac arrests occurred most frequently on a Monday

The highest number in a single month occurred in December (10.8 per cent) and the fewest in July (6.9 per cent).