Ambulance convoy arrives in Mongolia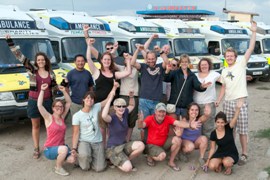 Volunteers have successfully driven a convoy of six decommissioned London ambulances from London to Mongolia.
The team travelled for 32 days and over 7,500 miles through Europe, Russia and Kazakhstan before reaching the Mongolian capital Ulaanbaatar on Wednesday (10 August).
The Leyland DAF ambulances, which previously served Londoners for over ten years, will now be handed over to the health authorities in Mongolia through international aid charity Go Help.
The team of 20 was made up of volunteers from the London Ambulance Service and children's charity MERU.
London Ambulance Service volunteer Tim Saunders said: "After months of planning, weeks of long days' driving, short nights and unexpected problems I don't think that anyone on the teams has realised the full extent of their achievement.
"I don't think it will hit me until I'm back at work in London. One thing is clear though, it has been a fantastic experience.
"We've now handed over the ambulances to charity Go Help who will find new life saving roles for them in Mongolia."
The team have been tracking their progress on their blog, where they've also been posting photos of the journey.
– Ends –
Notes to editors:
For further information about the London Ambulance Service or this news release please contact the communications department on 020 7783 2286.
Follow us on Twitter at www.twitter.com/ldn_ambulance or visit us on facebook at www.facebook.com/londonambulanceservice
MERU is a small charity based in Epsom, Surrey, and is the London Ambulance Service Chief Executive's nominated charity. They design and manufacture bespoke equipment for children and young adults with disabilities, where there is no other mainstream solution available on the market. 
Go Help is a small UK charity that develops innovative fundraising events to fund sustainable health and education projects across Central Asia. The Mongolia Charity Rally and the Roof of the World Rally are Go Help's two major fundraising events.