Saviour from above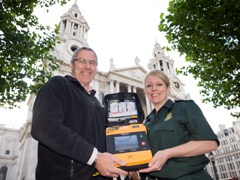 Visitors to St Paul's Cathedral can now be assured of the highest level of life-saving care in London following the installation of a defibrillator in the Golden Gallery at the top of the dome.
At 300 feet above the ground, the defibrillator will be the highest of the 600 public-access 'shockboxes' sited around the capital in train stations, airports, tourist attractions and workplaces.
Staff at the cathedral are this week being trained by the London Ambulance Service to use the defibrillator to restart a patient's heart, should they suffer a cardiac arrest.
The Service receives over 125,000 calls each year to people complaining of chest pain, one of the main signs of a heart attack.
Community Resuscitation Officer Claire Adams explains: "With a cardiac arrest every second counts in the delivery of first aid. When a person's heart stops there is limited time in which to deliver a shock, and after that time has passed there is little chance of survival. The staff at St Paul's Cathedral's work to learn how to use a defibrillator is extremely important and we are delighted with the commitment they have shown."
Clerk of the Works Martin Fletcher from St Paul's Cathedral said: "We are really pleased to have this life-saving equipment on-site. Every year we have 1.9m visitors and worshippers and there is of course a risk that one or more of these may suffer a heart attack or cardiac arrest. The defibrillators, and the London Ambulance Service's training, have given our staff the confidence to carry out first aid in even the most extreme of situations and we are very grateful."
The two defibrillators were provided by the British Heart Foundation.
– Ends –
Notes to editors:
For further information about the London Ambulance Service or this news release please contact the communications department on 020 7783 2286.
Follow us on Twitter at www.twitter.com/ldn_ambulance