South London stroke survivor tells his story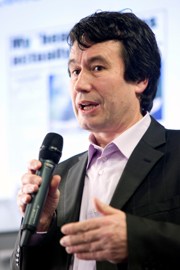 A man who called 999 for an ambulance after realising he was suffering stroke has spoken of his experience at a special public event.
André Bell, then 53, was driving to work through Beckenham one Sunday last May, when he had to stop the car as he was feeling so dizzy.
He called his employer, realised he was slurring his speech and called 999 for an ambulance.
Ambulance staff diagnosed André as potentially suffering from a stroke, and took him directly to a specialist centre at King's College Hospital, rather than the local A&E department. He received life-saving treatment and three days later he was discharged back to his home in Norwood.
André said: "I knew enough about strokes from the TV adverts to realise that this could be happening to me. I can't thank the ambulance and hospital staff enough, without them who knows where'd I'd be now?"
André was talking at a London Ambulance Service public event about emergency stroke care in the capital.  The meeting was held on the 29th floor of Guy's Tower, Southwark, in the impressive Roben Suite.
Paramedic Jo Martin, one of the ambulance crew that treated him, and Emergency Medical Dispatcher Graham Mears, who took the 999 call, also talked about their part in Andre's care.
Senior ambulance clinicians Fionna Moore and Neil Thomson spoke about how the London Ambulance Service has improved stroke care in the capital by taking patients directly to specialist stroke centres where they get access to expert care 24 hours a day.
Director of Health Promotion and Quality Steve Lennox spoke about the wider issue of how the ambulance service is looking to improve Londoners' general health and lifestyle choices.
Assistant Director of Corporate Services Carmel Dodson-Brown said: "We hope this event gave Londoners an opportunity to find out more about the positive work we're doing with emergency stroke care in the capital, and to get involved with the Service.
"This is one of a series of free public events we're holding. Future events will focus on major trauma, infection control and other aspects of the care we provide to patients."
To find out more about how to get involved with the Service, and to sign up to our free newsletter, please call 0800 7311 388 or become a member.
– Ends –
Notes to editors:
For further information about this news release or the London Ambulance Service please contact the Communications Department on 020 7921 5113.