Jim thanks for pool rescue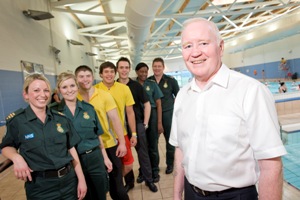 A member of staff, whose heart stopped beating while swimming, was reunited with the people who saved his life.
Ambulance officer Jim McCluskey was training for a triathlon at the Central Park Leisure Centre in Romford in February when he suddenly felt dizzy and suffered a cardiac arrest. His son Tony raised the alarm and the lifeguards leapt into action.
Lifeguards Daniel Stripling, David Hickford and Reiss Thomas pulled Jim out of the pool, started cardiopulmonary resuscitation (CPR) and shocked his heart with a defibrillator while someone called 999.
Reiss, whose parents and uncle and aunt are paramedics with the Service, said: "We realised Jim was in cardiac arrest and immediately started resuscitation. Our life-support and CPR skills are updated regularly but luckily nothing as serious has happened for a very long time."
Paramedic Kelly Henderson and Student Paramedic Gemma Ollerton, both from Whipps Cross, were on scene within minutes and were followed by Becontree Emergency Medical Technician Simon Lawrence.
Kelly said: "By the time we got to Jim, he was coming round thanks to the quick actions of the lifeguards.
"Every second counts when someone's heart stops beating and it is important to call 999 straightway. Getting a defibrillator to someone suffering cardiac arrest, or starting CPR as soon as possible, gives the patient the best chance of survival."
The crew took Jim to Queen's Hospital where he spent four days before being moved to the London Chest Hospital to have a heart operation. He was then transferred to St Bartholomew's Hospital and fitted with an internal cardioverter defibrillator.
Jim will not be competing in the triathlon he was training for, but will be cycling from London to Brighton in June to raise money for the British Heart Foundation.
He said: "I would like to again thank all the staff at the leisure centre and the Service who saved my life. The treatment I received was truly professional and so many of my colleagues have been extremely supportive of me and my family throughout my recovery."
The latest London Ambulance Service figures show that the survival rate for people like Jim, who suffer a cardiac arrest outside of hospital in the capital, is now the highest ever.
Over one fifth of cardiac arrest patients (21.5 per cent) treated by ambulance staff survive to hospital discharge, compared to half of that four years ago (10.9 per cent).
One of the factors in the increased survival rate is the access to defibrillators in public places around the capital and London Ambulance staff teaching people who work there how to use them while an ambulance is on its way.
For more information about the capital's cardiac arrest survival rate please visit our website
Notes to editors:
For further information about the London Ambulance Service or this news release please contact the communications department on 020 7783 2286.
Follow us on Twitter at www.twitter.com/ldn_ambulance