Ambulance service welcomes assault sentence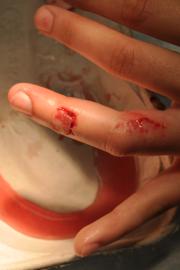 A man who bit a student paramedic's finger while she was treating him has been given a 36-week suspended prison sentence. He was also ordered to pay £7,500 compensation for the attack. 
Victor Almeida, 32, was drunk when he bit through the tendon of Helen Parsons' finger while she treated him in the back of an ambulance on Shoreditch High Street in July last year.
Judge Bing, who sentenced Almeida, said: "This is the sort of offence usually committed by a young thug."
Helen had to have the tendon in her finger surgically repaired and then permanently splinted for three months before she could return to work. Her finger is now scarred and doesn't bend or straighten.
Helen said: "I was in the back of the ambulance treating a patient who was clearly intoxicated. Just as the ambulance started to move he grabbed my hand and bit my finger.
"He kept his teeth clamped on my finger while I tried to get him to let go and called for help from my crewmate. I managed to get the side door of the ambulance open and jumped out, dragging him with me.
"When he fell out of the ambulance my crewmate was able to prise his mouth open and free my finger.  He then attempted unsuccessfully to stand up before falling back onto the pavement where he remained until the police arrived."
Ambulance Operations Manager Michael Pearce said: "This case demonstrates that assaults on our staff will not be tolerated. Ambulance crews should be able to treat patients in their community without fear of being attacked.
"On average almost one member of staff was physically assaulted every day in the capital.  This is wholly unacceptable, and is all too often becoming a regular part of the job."  
-ENDS-
Notes to editors:
Victor Almeida was given a 36-week prison sentence (suspended for 18 months), 180 hours community service, ordered to pay £7,500 compensation and £1,100 costs to the London Ambulance Service.
For further information about this news release or the London Ambulance Service please contact the Communications Department on 020 7921 5113.