The London Ambulance Service has officially maintained a prestigious government award for customer service.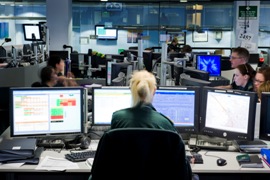 The Cabinet Office Customer Service Excellence standard recognises the quality with which 999 calls are answered and handled.
Assistant Director of Operations Fiona Carleton said: "An external assessor spent time with our staff and managers in the control room and was impressed with the way we have maintained our standards in an environment of increased demand on our 999 call system.
"This achievement is a credit to the hard work and commitment of staff in providing our patients with an ambulance service that they can rely on."
The London Ambulance Service became the first ambulance trust in the country to be awarded the accolade last year.
– Ends –
Note to editors:
For further information on the London Ambulance Service or this news release please contact the communications department on 020 7921 5113.
Follow us on Twitter at www.twitter.com/ldn_ambulance