New health minister visits London Ambulance Service
New Minister of State for Health Simon Burns MP paid a visit to the London Ambulance Service to hear first-hand from staff about their work.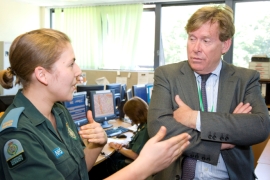 Mr Burns met with senior representatives to discuss current issues before being given a tour of the Service's control rooms which handle 999 calls and meeting an ambulance crew. He also listened in on 999 calls in the emergency operations centre, and saw a special control room which is used to manage serious and major incidents.
The minister then spent some time in the urgent operations centre, which is used to manage calls to patients who are in neither a serious nor life-threatening condition.
Mr Burns, who is the MP for Chelmsford, said: "I was delighted to visit the London Ambulance Service and hear about the challenges it faces and speak to those who are at the frontline of emergency care, whether that be in one of the control rooms or treating patients.
"In particular I was interested to hear about the work the Service is doing to not only manage the increase in demand it has seen year on year, but also the innovative steps it is taking to improve the health outcomes of its patients."
Medical Director Fionna Moore said: "We were delighted to have the new minister visit so soon after his appointment and get the chance to update him on our progress and future plans.
"We discussed the significant improvements we have made with the care we provide for stroke, cardiac, and trauma patients, and brought Mr Burns up to date with the work we have done for those people who call us frequently but really need the help of other organisations rather than the ambulance service.
"We also spoke about the expansion of our clinical telephone advice team and the increased number of calls we are passing to NHS Direct so that patients with less serious conditions get the right kind of help.
"And we talked about the large volume of calls we receive to patients who have drunk too much alcohol, and the work we are doing in support of the NHS Choose Well campaign which aims to ensure patients make the best choice when they are ill or injured – which may not be calling 999 for an ambulance."
Note to editors
For further information on the London Ambulance Service or this news release please contact the Communications Department on 020 7921 5113.
Follow us on Twitter at www.twitter.com/ldn_ambulance