Marathon effort to raise money for MERU
Members of London Ambulance Service staff are limbering up for the fundraising run of their life in April when they will be taking part in the Virgin London Marathon in aid of MERU.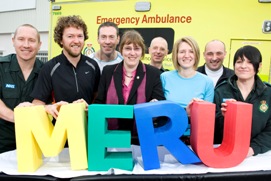 The charity, which is based in Epsom and covers all of London and the South East, designs and manufactures bespoke equipment for children and young adults with disabilities, when there is no other mainstream solution available on the market. The Service is hoping to raise £25,000 over the next two years for the organisation which was chosen by staff as the Chief Executive's charity.
Chief Executive Peter Bradley said: "The marathon runners are a credit to the Service and I wish them the very best of luck both with the event and their fundraising efforts. We're looking forward to working with MERU over the next two years and I know that the money raised by our staff will make a real difference to the lives of the children and families that the charity works with."
MERU Chief Executive Susan Brumpton said: "To be chosen by the London Ambulance Service as its charity is a wonderful opportunity for us. Their efforts are very much appreciated by our staff, our volunteers and the children we help. We wish all the runners every success and will be cheering them on as they take part in the marathon!"
Anybody wishing to sponsor the marathon runners as a group can make a donation by visiting www.justgiving.com/lasmarathon
– Ends –
Notes to editors
For a hi-res photo of the marathon runners with MERU, or for more information about this news release please contact the communications department on 020 7921 5113
Picture caption: L-R Arron Bonning, Mark Wright, Rod Bryant, Susan Brumpton (Chief Executive, MERU), Gary Robertson, Amy Laws, Scott Windley, Romana Skotzen
For more information about MERU, please visit http://www.meru.org.uk/ or call 01372 725203
Follow the ambulance service on Twitter at www.twitter.com/ldn_ambulance
Full list of staff running the London Marathon:
Arron Bonning, Tottenham
Rod Bryant, Newham
Luke Collyer, Homerton
DixieDean, City & Hackney
Roberta Evans, Hertfordshire university student and Waterloo relief
Steven Kime, Waterloo HQ
Amy Laws, Pinner
Jackie Neenan, Bow
John O'Keefe, Bow
Lynn Pearson, Emergency Operations Centre (EOC)
Gary Robertson, West Ham
James Rouse, Shoreditch
Ian Scott, Deptford
Romana Skotzen, Tottenham
David Tunstall, Emergency Operations Centre (EOC)
Lorna Turner, Greenwich
Scott Windley, Becontree
Mark Wright, Oval
Paul Young, Bromley