London Ambulance Service hosts 2012 Games conference
The London Ambulance Service welcomed guest speakers from Vancouver and Melbourne to its first national 2012 Games conference.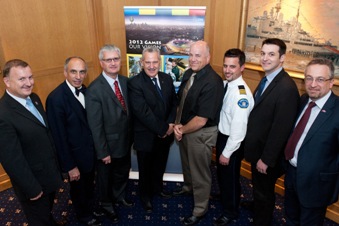 More than 100 people attended the event near the Service's Waterloo headquarters in May. Guests included colleagues from ambulance services across the country, St John Ambulance and British Red Cross and other healthcare organisations.
Guest speakers included Paul Holman and Bob Alexander – in charge of providing emergency medical services for the Melbourne 2006 Commonwealth Games and Vancouver 2010 Winter Olympic and Paralympic Games respectively.
The Service's Head of Olympic Planning Peter Thorpe said: "It's important to learn from services who have run similar events and share information and this conference was a great opportunity to do this. We started our planning in 2006 – we learned from other cities that have hosted the Games that you can never start planning early enough.
"We are now moving away from the planning phase and into the delivery phase. It's the biggest sporting event in the world so will be an enormous test, with a huge influx of spectators, athletes, officials and media into London. The challenge is not just providing medical care to the Olympics, but also ensuring that we maintain our normal day-to-day emergency service across the capital at the same time.
"It's an exciting time and our staff, as well as those from other ambulance services, will have a once in a lifetime opportunity to work at the Games and will acquire new skills along the way."
 Note to editors
For further information on the London Ambulance Service or this news release please contact the communications department on 020 7921 5113.
Follow us on Twitter at www.twitter.com/ldn_ambulance