Ambulance adverts to remind Londoners to 'Choose Well' when needing medical help
Ambulances in London are to start carrying a hard-hitting advert to remind the public of where else they can go for medical help before calling 999.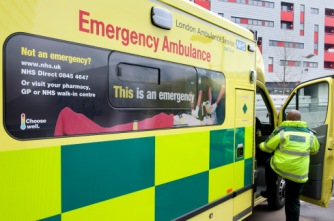 The image of a patient being resuscitated will be carried on vehicles across the capital to link in with NHS London's Choose Well initiative, which aims to highlight the full range of healthcare options available to people who need advice or treatment.
This includes calling NHS Direct on 0845 46 47, seeing a pharmacist or GP, or visiting a local NHS walk-in centre, urgent care centre or minor injuries unit.
And those people who may need to go to hospital but are not in a life-threatening condition are being reminded that arriving there in an ambulance will not mean that they will be seen any more quickly than if they got a lift from friends or relatives.
It is the first time that that the Service has used its vehicles as mobile billboards to take public education messages out onto the roads.
Medical Director Fionna Moore said: "We don't want to put anyone off from calling us in an emergency, but it is in everyone's interests for patients to choose well and use the right NHS service for their particular needs.
"If people can improve their understanding and awareness of where they can go for help in their area, then it will help us to be able to reach those patients with the most serious illnesses and injuries as quickly as possible."
The Service now receives nearly 1.5 million emergency calls a year and in 2009 responded to one million incidents.
To help deal with the increasing demand on the system, callers with more minor problems who don't need immediate medical help are increasingly being given advice over the phone by a specially-trained clinical advisor rather than being sent an ambulance crew to treat them.
In some cases, they are also referred to NHS Direct for advice on where to get the most appropriate help or treatment.
Full details of the NHS services available across London can be found at http://www.nhs.uk/
Note to editors
For further information on the London Ambulance Service or this news release, or for a high resolution photograph, please contact the Communications Department on 020 7921 5113.
Follow us on Twitter at www.twitter.com/ldn_ambulance