Athletics club gets on track with lifesaving lessons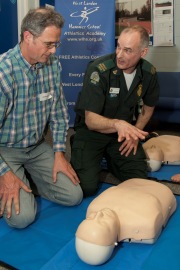 Staff and members at a west London athletics club have got their lifesaving skills on track with free lessons from the London Ambulance Service.
Paramedics Tim Wilkinson and Norman Abbot taught 26 people from Ealing, Southall and Middlesex Athletics Club what to do if someone suffers a cardiac arrest – collapses and stops breathing.
The free 'Heartstart' lessons are part of a new initiative between the London Ambulance Service and the British Heart Foundation to get more people in the capital aware of how to save a life.
Tim explained: "It's really easy to learn how to save a life and it can make all the difference to someone's chances of survival if they collapse and stop breathing.
"When a person suffers a cardiac arrest blood is no longer being pumped effectively around their body and oxygen is not reaching their brain. It's vital that someone calls 999 for an ambulance and starts cardiopulmonary resuscitation straightaway."
Welfare Officer Jean King from Ealing, Southall and Middlesex Athletics Club said: "We are really pleased to have taken the opportunity to learn to save lives.
"Every year there are 40,000 visitors to Perivale Park athletics track and there is of course a risk that one or more of these may suffer a heart attack or cardiac arrest. This Heartstart training has given our staff and members the confidence to carry out basic life support in even the most extreme of situations and we are very grateful."
To enquire about Heartstart lessons please call 020 7783 2534 or email [email protected]
– Ends –
Notes to editors:
For further information about the London Ambulance Service or this news release please contact the communications departemtn on 020 7783 2286
Patients are now twice as likely to survive an out-of-hospital cardiac arrest in London than they were just four years ago. Latest figures show that in 2009/10, 21.5 per cent of patients suffering an out-of-hospital, bystander-witnessed cardiac arrest and who were treated by ambulance staff were discharged alive from hospital, compared to 10.9 per cent in 2005/06.
This is down to a number of factors, including staff reaching patients more quickly and giving better quality CPR and clinical care, along with other improvements such as the increased number of public-access defibrillators.
The work of the Community Resuscitation team has helped to improve public knowledge of the importance of providing basic life support in an emergency.
With the help of the British Heart Foundation, the Service has coordinated the installation of over 500 defibrillators in public places, and last year trained over 1,000 people working in those locations to use them while an ambulance is on the way.
Being able to use a defibrillator to restart a patient's heart can further increase their chances by more than a third
The Service also has a network of volunteer community responders who are trained to use a defibrillator and attend patients in a life-threatening condition in their neighbourhood, alongside a traditional ambulance response.