Six-year-old calls 999 for mum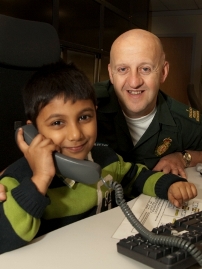 A schoolboy from Wembley has been recognised for his brave actions after he called for an ambulance for his mum.
Six-year-old Hasitha Solingage don dialled 999 when his mum collapsed at their home.
London Ambulance Service Emergency Medical Dispatcher Carlo Capelli, who took his call, said: "Hasitha was probably one of the best callers I have ever had and puts most adults to shame. I remember we were laughing because he told me his mum was 73, and in fact she's 33."
Hasitha, who was just five when he made the call in December last year, was invited to the ambulance control room to meet Carlo, who presented him with a certificate for his actions.
His mum, Ayesha Ekanayake, who was taken to hospital with low blood pressure, said: "I remember going outside and I suddenly had pain in my back and went dizzy. I called out to Hasitha and luckily he heard me. He was really scared, but he did very well and I'm very proud.
"He was very excited about meeting Carlo and seeing the ambulance control centre and couldn't wait to get back and tell his school friends."
Notes to editors:
For further information about the London Ambulance Service or this news release please contact the communications department on 020 7783 2286.
Follow us on Twitter at www.twitter.com/ldn_ambulance