Mayor of Kingston commends the London Ambulance Service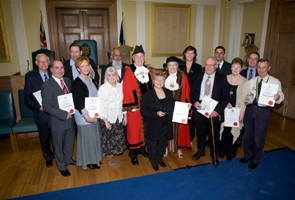 The Mayor of Kingston has thanked the London Ambulance Service staff who attended a fire in the borough last summer.
The blaze on St Peters Road engulfed the top floors of a tower block on 12 July and smoke could be seen for miles. Four ambulance crews and a single responder together with the Service's hazardous area response team and officers helped to evacuate dozens of residents, and checked over a number of them at the scene. Thankfully, only one patient needed hospital treatment.  
The commendation was presented to the Service at a community awards evening in Kingston's Guildhall on Monday 7 March.
The Mayor, Councillor Chrissie Hitchcock, said: "There is little I can add to the praise heaped upon the borough's emergency services. These brave men and women operate 24/7 throughout the borough and in an emergency they go that extra mile. 
"The emergency services were, without doubt, at the heart of the incident and stayed throughout the night and into the following day, supporting the council and its residents." 
New Malden Duty Station Officer Chris Neely, who represented the Service at the awards evening, said: "We're delighted to be thanked by the Mayor of Kingston and it's great for all of the staff who attended the fire to be recognised for their hard work.
"The quick and effective response I witnessed at the scene by all of the emergency services helped to ensure that only a few patients needed to be treated." 
Notes to editors:
For further information about the London Ambulance Service or this news release please contact the communications department on 020 7783 2286.
Hazardous area response team is a specialist team of Service staff who have been trained to provide life-saving medical care in hostile environments such as industrial accidents and natural disasters.
Follow us on Twitter at www.twitter.com/ldn_ambulance