Keep warm and keep well this Christmas, says ambulance service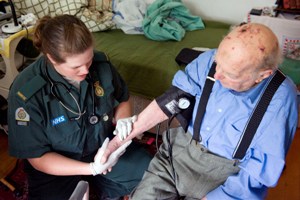 As Londoners prepare for a long weekend this Christmas thanks to two bank holidays, the capital's ambulance service is urging people to make sure they keep warm and keep well.
With cold temperatures expected to continue over the festive period, the London Ambulance Service wants people to make sure they wrap up warm if they're out and about and to ensure they have a fully-stocked medical cabinet at home and all their prescription medicines.
Director of Health Promotion and Quality Steve Lennox said: "For older people and those with pre-existing medical conditions it's vitally important that they stock up on any medicines and prescriptions they might need over the next few days.
"While some out-of-hours GPs will be available over the Christmas weekend, people might find it difficult to get medicines over the bank holiday – that's why they should make sure they're prepared and get everything they need now. And of course it's very important that people make sure they stay warm during the cold weather and I'd urge people to check on elderly relatives and neighbours.
"Anybody that needs medical help should consider other options before calling for an ambulance such as NHS Direct on 0845 46 47 or visiting a local walk-in centre or urgent care centre – but in an emergency please call 999 immediately."
– Ends –
Notes to editors
For more information, please contact the London Ambulance Service communications department on 020 7783 2286.
Follow us on Twitter at www.twitter.com/ldn_ambulance