Busiest ever week for ambulance service as big freeze returns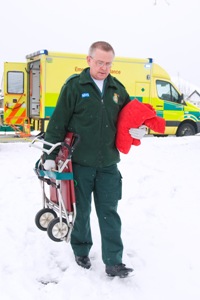 Wintry weather and festive revellers saw 999 calls reach exceptional levels at the end of the London Ambulance Service's busiest ever week.
With no sign of an increase in temperatures, Londoners are again being asked to use their ambulance service wisely and only call 999 in an emergency.
Since the snow started to fall on Friday staff took 17,499 calls up until Sunday night – an increase of 30 per cent compared to an average weekend. During peak hours, staff were answering well over 500 calls an hour, or eight every minute.
With forecasters predicting more cold weather and snow, people should take extra care when they're out and about. The cold can make existing conditions worse, such as asthma, and snow and ice can lead to an increase in slips, trips and falls. Over the weekend staff answered 1,215 calls from people who'd slipped or fallen, up 58 per cent on usual levels.
Director of Operations Richard Webber said: "We've been very, very busy since Friday and over the next few days I'd ask Londoners to help us by using the 999 system wisely.
"There are a number of common sense things people can do to look after themselves so they don't have to call us. If you're going out wrap up warm, and take care if you're driving on icy roads or walking on slippery pavements.
 "Anyone with minor illnesses or injuries can get help or advice over the phone from NHS Direct on 0845 46 47, or they can visit a local pharmacist, out-of-hours GP service or a walk-in centre. People can also make their own way to A&E – arriving in an ambulance doesn't mean you'll get seen any quicker.
"People are calling us with very minor complaints such as sore throats and earache – we've even had somebody call us because they had a sore foot after standing on an earring. That could potentially delay our response to somebody in a life-threatening condition or an elderly person who's fallen on some ice.
"Of course if it is an emergency, please call 999 immediately."
With the demand on the Service expected to remain high as the cold weather continues over the Christmas period, there are a number of things that people can do to help themselves:
Dress appropriately and wear sensible footwear
Wrap up warm to help keep the cold at bay
Stock up on medicine, especially if you have a pre existing condition such as asthma.
– Ends –
Notes to editors
Monday 13 to Sunday 19 December was the Service's busiest ever week for 999 calls, with staff in the control room taking a total of 38,617.
Friday 17 December was the Service's busiest day (since April 2000, when the Category A target was introduced) with staff taking 6,681 calls.
Saturday 19 December was the fourth busiest day for the Service (since April 2000) with staff answering 6,127 calls. Only Friday 12 December and the past two New Year's Days were busier.
For further information about the London Ambulance Service or this news release please contact the communications department on 020 7783 2286.
Follow us on Twitter at www.twitter.com/ldn_ambulance