Ambulances will not be sent to some patients today following overnight snow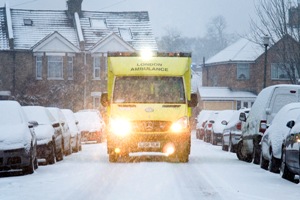 More patients with minor illnesses and injuries will be offered advice over the telephone today to help deal with challenges posed by the wintry weather.
The move is part of the London Ambulance Service's plans to manage the difficulties in reaching some patients, as well as a rise in emergency calls. Yesterday (Friday 17 December) staff in the control room took over 6,500 emergency calls – almost 50 per cent above expected levels.
Continuing high demand and snowy conditions across many parts of London have led to the decision to extend the system of offering telephone advice to patients who do not need an emergency response.
Under this temporary measure, callers with less serious conditions such as coughs and colds, minor cuts and bruises, and upset stomachs will not be sent an ambulance, and will instead be advised on how to care for themselves or where else to seek help.
Other options for these patients include:
Calling NHS Direct on 0845 4647 for medical advice
Contacting out-of-hours GP services
Making their own way to hospital, NHS walk-in centre or minor injuries unit – arriving by ambulance does not mean you will get seen any quicker.
Londoners are also being reminded about a number of common sense things they can do to keep warm and well:
Anyone going out should make sure they are dressed for the weather
Extra care should be taken on roads and pavements, as they are likely to become increasingly slippery
People should also check on elderly or vulnerable neighbours, friends or family members to make sure they are comfortable.
Deputy Director of Operations Jason Killens said: "Our priority is to ensure that we can respond as quickly as possible to people with the most serious illnesses and injuries, and vulnerable patients.
"Anyone with a genuine emergency should call 999 immediately, but those with less serious problems should be aware that we may not be able send ambulance crews to them.
"We will continue to monitor and review the situation throughout the day, but would urge people to use the ambulance service wisely."
– Ends –
Notes to editors
Clinical telephone advisers carry out full assessments over the phone on more than 45,000 patients a year. In 2009/10, more than 12,500 of these were assessed as not needing ambulance staff to attend them.
Emergency calls to the Service rose by 13 per cent over the past two days compared to the same days last week, with more than 300 calls an hour being received in the control room in the busiest hours – 50 per cent higher than usual.
A programme to fit the Service's fleet of ambulances and response cars with winter tyres has almost been completed, and other contingency plans have been put into place to help get staff to work.
For further information about the London Ambulance Service or this news release please contact the communications department on 020 7783 2286.
Follow us on Twitter at www.twitter.com/ldn_ambulance