Staff recognised for their bravery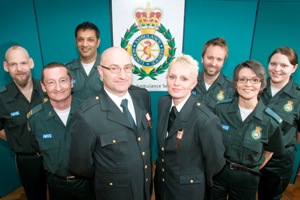 A brave group of ambulance staff has been recognised for going above and beyond the call of duty.
Paramedics Madeline Basford-Herd, Janet Clennell and Matthew Miles, along with Emergency Medical Technician Frank Samaras, received Chief Ambulance Officer Commendations at the beginning of the month.
The awards are testament to their bravery and commitment to patient care.
Back in 2006 Frank Samaras intervened twice when a violent attacker was assaulting people in the street, helping two women escape serious injury.
Madeline Basford-Herd and Janet Clennell were both threatened with a gun in two separate incidents in east London last year. Their level-headed actions meant they were able to escape the danger along with their crew mates.
Matthew Miles rushed to help a patient who had been stabbed in February 2008, after a group of men arrived outside his ambulance station in the early hours demanding help.
Chief Executive Peter Bradley said: "It's important that we recognise staff who go the extra mile and demonstrate such bravery. I'm very proud of Frank, Madeline, Janet and Matthew who are a real credit to the Service for what they did."
Emergency medical technicians Reyed Budaly and Mark White received Assistant Director of Operations Commendations for their part in the two firearms incidents, along with Student Paramedic Sarah Simms. EMT Peter Knight was also awarded an ADO Commendation at the event after rescuing a patient who was being attacked by a dog in May 2008.
– Ends –
Notes to editors
For further information about the London Ambulance Service or this news release please contact the communications department on 020 7921 5113.